---
Lodge Officers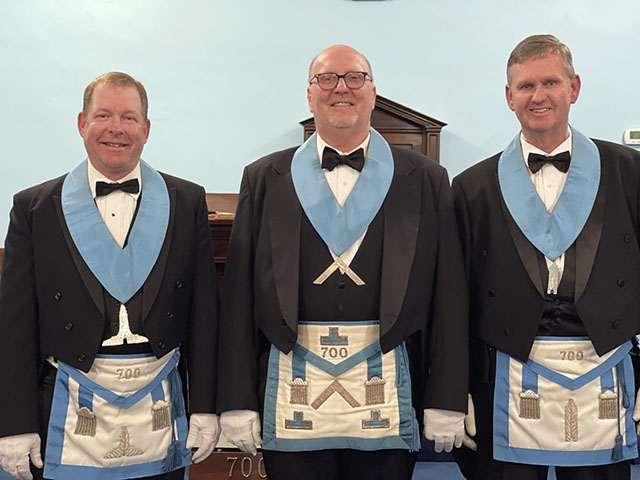 The Elected Officers for 2017 are:
Worshipful Master:

Kenneth J. Corradini, PM

(center)

Senior Warden:

Ryan M. Houseknecht

(left)

Junior Warden:

Daniel M. Ring

(right)

Treasurer:

Wayne M. Baggett

Secretary:

Gerald F. Selders, PM
For a slideshow of our past Lodge Officer's, click the "past officers" link on the left.
---
2017 Masters Message
Brethren,
I would like to take the opportunity to thank you for electing me to once again serve as Worshipful Master for our Lodge. I look forward to continuing the tradition of excellence set by our Past Masters. I would like to congratulate Brother Brian A. Aynardi, PM on his year serving our lodge as Worshipful Master. Furthermore, I look forward to working with our new Senior Warden, Brother Ryan M. Houseknecht and Junior Warden, Brother Daniel M. Ring.
This should be an exciting year for our Lodge, as in addition to our regular and extra meetings, we welcome District 21's newest DDGM, Brother John R. Segursky, Jr., PM. Our Lodge will be the location for his installation which will take place Sunday, January 29, beginning at 2 pm. Please make every effort to attend this open installation and support Brother Segursky.
As many of you are aware, we are currently renovating our Lodge room. At the time of writing this message, we are well underway with the renovations. The theater seating has been removed, the carpet selected and ordered, and oak pews have been purchased and delivered. My sincere thanks to everyone who has participated, be it financially, physically, or both. You can view progress of the renovation on our website and also on our Facebook page.
I look forward to seeing you in lodge and thank you for your continued support and dedication to our Fraternity.
Sincerely and Fraternally,
Bro. Kenneth J. Corradini, PM, WM